"It is a truth universally acknowledged, that a manufacturer in possession of a good product, must be in want of the right workpiece pallet conveyor."
Alright, so Austen probably wouldn't approve of her quote used to describe manufacturing, but it rings true nonetheless. When your client needs a workpiece pallet conveyor manufacturer, they're looking for the right one for them. The right manufacturer can maximize their assembly manufacturing productivity.
Glide-Line ensures customer satisfaction with all its conveyors through its innovative process for manufacturing conveyors and by focusing on customer satisfaction above all.
Case Study:

One-of-a-Kind Open Center Bridge Design
One such customer had unique requirements. They needed a long conveyor span with no leg sets that would elevate and convey product over machinery underneath. The customer had a specific, custom design in mind for the workpiece pallet itself with features they required for their own equipment, and we worked with them to develop it.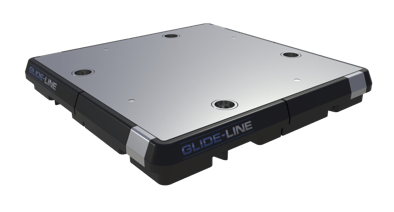 The product was an autoshaft that stuck two feet down(!) through the center. We couldn't have a drive mechanism since it had to be completely open down the whole line. To overcome this, we built a dual strand conveyor with a drive on each strand. We then created a giant bridge, about 30 feet long, to support the workpiece pallet conveyors, with nothing underneath.
We shipped this system fully assembled. All the customer had to do was lift it up nine feet in the air, and place it on the elevators that were on each side to support it.
Since the integrator team was small, we were also able to coach as we went through the process, learning and working together to overcome this unique challenge.
Case Study:

Incredibly Quick Turn on Fabrication and Delivery
A medical equipment manufacturer was in need of conveyors to very quickly expand their production. This customer needed:

Unbelievable design support (very quick and very precise)
Incredibly fast delivery

Custom pallet solutions

Additional assembly
The customer chose us because of our ability to speed up our design, fabrication, assembly and delivery processes to meet their incredibly quick turnaround time. There was a lot of pressure to deliver. Since then, the client has ordered an additional two projects from us because of our speed and agility.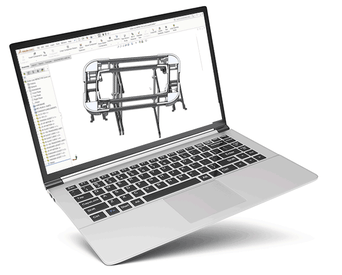 We developed the final model in two weeks while the project scope expanded multiple times during design. We developed a "work square" - a square loop - for the client, and they wanted ten such loops. To speed up the assembly process after delivery, we mounted the lift locate units and other components before shipping.
In addition to the square conveyor loops, there were 96 custom pallets, each having custom features and etched labeling. They all have custom mounting features as well. This feature was added using IMPACT!, our in-context configuration tool; they used our base "pallet" in the tool and they added the holes they needed and location of them. This additional instruction and preparation allowed us to move even quicker during fabrication to meet their exact specifications.


Our Process
The applications group for Glide-Line utilizes the same IMPACT! configuration tool that is available for your use by downloading off our website. Since the same tool can be used by both our applications team and your engineering team, we are able to easily share 3D models ensuring we have the perfect solution for the application.
In addition to creating the 3D models of the system, IMPACT! allows us to produce a detailed bill of materials and instant pricing. This bill of materials is what we use in the final proposal. This very efficient use of an in-context configurator that's so accurate reduces the risk of mistakes and allows Glide-Line to return detailed proposals and models very quickly. This also feeds our ERP system directly which helps us keep costs low and have the fastest deliveries in the industry.
Once fabrication and build are complete, Glide-Line conveyors are shipped as an assembled conveyor unit that is easily installed/assembled into your specific application. We're also more than willing to provide additional assembly services, including assembling and connecting full sections of the system.
Glide-Line's speed, flexibility, and ease of collaboration are why our customers love us. Get acquainted with us today! Contact us about your next project.