Automated conveyor system design engineers are consistently telling us one thing: change management is a struggle to do efficiently. It's why we created a solution: a configurator that allows you to bridge your design in SOLIDWORKS using Excel, save it on your own computer, and make changes to the model in your master assembly instead of re-downloading every time. It's also smart enough to help you make those changes and serve as a back-up calculator for modifications.
This (somewhat funny but very accurate) video illustrates how IMPACT! works with automated conveyor system design engineers when it comes to change management. View it below or open in YouTube here.
Imagine buying a part for a car. You spend time installing the new part and putting the engine back together again, only to discover the new part is the wrong size or model for your vehicle. Now, you have to disassemble the engine a second time, remove the part, and install the correct one in its place.
This is how most configurators work when it comes to change management. As a design engineer, you need to "disassemble" your conveyor automation system any time there's a change request, create a new CAD block, and re-assemble your system around the updated part.
Now imagine the car engine again. What if, instead of needing to remove the incorrect part, you were able to simply tell the part to adjust where needed to make it fit your current system? It would accommodate any change you needed, and all parts around it would reattach where they needed to, and the engine would run smoothly.
This is what IMPACT!, our proprietary configurator, does. IMPACT! makes any change you apply configurable in the context of the CAD system with the click of a button, keeping your system intact and updating only where needed to accommodate any modification.
IMPACT! is the way design engineers are simplifying aspects of their change management.
First: Simplify precision design.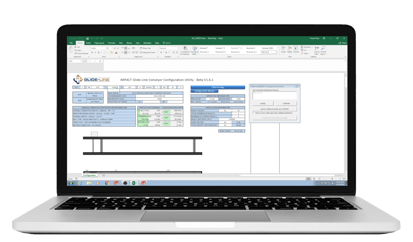 The configurability of conveyor design is apparent with IMPACT!. The precision with which you're able to design is second-to-none. In the conveyor design module, IMPACT! has eleven configurable variables, including:
Conveyor length and width

Location of drives, gearboxes and cross members

Gearbox orientation rotationally

Break-points for shipping

Number of conveyor strands needed in your application
Design engineers need a configurable conveyor assembly process, and using IMPACT! allows for precise configuration of any conveyor system application design.
Second: Simplify mates and references.
In our post An Alternative to Downloading & Re-inserting CAD Models: Better Conveyor Design Software, I describe how IMPACT! allows designers to design the system, make changes, and keep equipment in the proper relation using mating references, and how future changes are implemented using the in-context aspect of IMPACT!. Since the configurator includes a proprietary API bridge to SOLIDWORKS, and since the CAD solid models are based in Excel, modifications are no problem. The fact that our conveyor configurator works with SOLIDWORKS, and that mates and references automatically update, simplifies change management significantly.


Third: Simplify the bill of materials.
Glide-Line's in-context configurator allows for precise conveyor system application design and efficient change management and simplifies the process of procurement with a bill of materials (BoM). Pricing is dynamically updated, along with part numbers, as you make changes to your design. It easily transfers the information to whoever needs to place the order, since the latest version of your design includes both parts and pricing.
No longer do you need to explain your design to someone else to create a proposal; with IMPACT!, it's accurate and at your fingertips. You're able to dynamically change your automated conveyor system design throughout the life of the project without having the changes negatively impact your timeline thanks to this conveyor design software that does it all.
Projects will always change; we know it and accept it. The key is dealing with them. IMPACT! makes addressing those changes easier. Changes can be customer-driven (and we all want to meet the needs of our customers), or they can simply be evolutionary in relation to the design process. However, the timeline rarely flexes with the changes.
Simplify change management for your automated conveyor system application using Glide-Line's in-context configurator, IMPACT!. It's free to use, easy to learn (it's Excel-based, for cryin' out loud), and exactly two clicks away from starting to positively impact your work day. Get started now.